Taos, New Mexico has 1000's of rooms and a wide variety of accommodations. See below for some of Far Flung's favorite places to stay in Taos, as well as some great restaurant recommendations! As always, feel free to contact us with any questions you might have regarding your stay in northern New Mexico: info@farflung.com.
El Monte Sagrado Living Resort and Spa: 1-800-828-8267
A Beautiful Hotel with a Wonderful Restaurant:
"El Monte Sagrado means 'The Holy Mountain'. The word 'Sagrado' also means 'sanctuary.' Indeed, a stay at El Monte Sagrado Living Resort and Spa offers a luxurious and lush retreat from a hectic world."

Hotel La Fonda: 1-575-758-2211
Oldest hotel in Taos and conveniently located on the Historic Taos Plaza. Popular nearby restaurants include Lamberts of Taos, a fine dining experience, and The Gorge bar and Grill, a family friendly bar and restaurant.
Numerous other options within walking distance: Click here to see Trip Advisors Map View of restaurants near the Taos Plaza.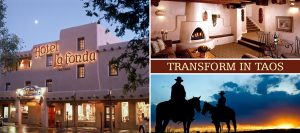 Hacienda del Sol Bed & Breakfast: 1-575-758-0287
"Taos Mountain is our backyard. Taos Hacienda del Sol Historical Bed and Breakfast consists of three adobe buildings, with the original building dating back to 1804. Situated on 1.2 acres, the hacienda adjoins 95,000 acres of Taos Pueblo land with Taos Mountain, considered sacred by the Taos Indians, providing a commanding backdrop to our two lovely courtyards."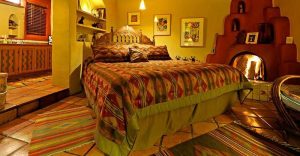 Ghost Ranch: 1-877-804-4678 ex. 0 & 1-505-685-4333 ex. 0
This is a fantastic option if you are planning on doing a Chama River trip with us.
A beautiful location surrounded by a wide valley of dramatic sandstone cliffs, and the location of several movie sets. Dont forget to check out nearby Ojo Caliente Hot Springs and Resort, a definite cant-miss of northern New Mexico. Overnight lodging includes breakfast. There is also an education center that offers a wide variety of daily classes that may be added into your stay; check their website for options and availability.
Taos Inn: 1-800-826-7466
Historic and conveniently located just off the Taos Plaza, the Taos Inn is a favorite locals hangout and has a fun lively atmosphere. The downstairs restaurant, "Doc Martin", is excellent, and there is generally live music in the evenings.
"Since 1936, The Historic Taos Inn has welcomed famous folks like Greta Garbo, D. H. Lawrence, and Pawnee Bill. More recently, celebrities like Robert Redford and Jessica Lange have been spotted sipping margaritas in the lobby. The Inn was founded on a rich legacy of excellence. Our guests are eager to sample the atmosphere of old Taos yet expect modern amenities. So our goal is to deliver just that. We aim to provide personal service in a warm and relaxed surrounding."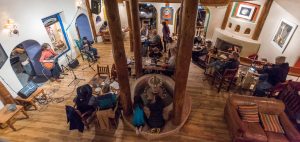 Sagebrush Inn: 1-800-428-3626
"A historic Taos landmark, Sagebrush Inn opened in 1931 as a 17-room hotel, catering to guests traveling by carriage along the trade route between New York and Arizona. Today, the newly restored Sagebrush Inn & Suites offers a mix of modern comforts and conveniences surrounded by historic Southwestern charm, featuring 156 graciously appointed guestrooms and suites, complimentary breakfast for all stays, onsite dining, meeting and event space, stunning vistas of the Sangre de Cristo Mountains, and much more."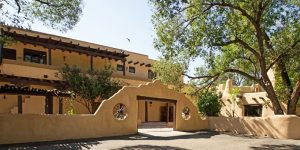 Inn on the Rio Bed & Breakfast: 1-575-758-7199
"An uncommon Bed & Breakfast Inn located in the town of Taos, New Mexico. Perfectly situated on the banks of the Rio Fernando at the base of the Sangre de Cristo Mountains. A place our guests love coming back to again and again"
Two Stars and Economy:
El Pueblo: 1-575-758-8700
Quality Inn: 1-575-758-2200
Hampton Inn: 1-575-737-5700
Kachina Lodge: 1-800-522-4462
Sun God Lodge: 1-575-758-3162
Indian Hills: 1-575-758-4293
Comfort Suites: 1-575-751-1555