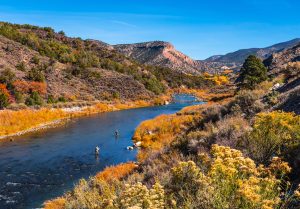 Spring time on our home waters, the Rio Grande del Norte is an exciting time for us here at Far Flung Adventures. It means a lot of things to a variety of river runners in our area. From daily check-ins with the multitude of river level gauges, to watching the weather in anticipation of more precipitation. Particularly the frozen variety, high in the beautiful mountains surrounding us.
Community Effort
Another important spring time ritual at Far Flung, and in fact for all river runners across the nation, is that first river clean up of the season. Earlier this month Far Flung Adventures, along with other members of the river community, took part in our first river clean up of the year. We have multiple river sections in our area for a wide variety of trips, and his particular clean up day was on the world famous Race Course section of the Rio Grande.
Working together, river guides and private boaters from our local boating community hauled approximately 1500 lbs of trash off the river. This is an excellent way to kick-off the season. Although the Rio Grande del Norte has been Federally protected since 1968(Wild and Scenic) it is still critical for community members to get involved and help take care of the river corridor any way they can.
What's Next?
Up next for Far Flung river clean ups will be the Orilla Verde section, where Far Flung Riverside is located. The Orilla Verde is a beautiful, class II stretch of the Rio Grande and perfect for nervous first-timers, families with small children, and anyone looking for a relaxing, scenic float.
To see what you can do in your area click the link below. If you don't see anything nearby, reach out to the local field offices of your state parks, national parks, BLM, etc and inquire about clean up dates near you.